Jefferson Ho's formula for fast laps in an E36 M3 pairs a stock engine with vastly improved mechanical grip thanks to wider tracks and upgraded suspension.
At first glance, Jefferson Ho's Estoril Blue E36 M3 looks like your average older M car. A closer look, though, makes it clear that the car is far more interesting than most.
Ho's 1998 M3 first came to our attention on social media, when a photo shoot of the car went viral. Like everyone else who saw it, we were intrigued by the car's aggressive track stance and E36 M3 Lightweight-inspired appearance. We wanted to see the car in person, but that wouldn't be easy since this M3 and its owner live in Vancouver, British Columbia, nearly 1,000 miles north of us. Fortunately, Ho and an entourage of friends made the drive down south to Los Angeles last year, when we finally got to see his car in person.
As impressed as we were that Ho would make such a long drive in a 17-year-old modified BMW, we were even more impressed after watching his M3 carve the canyon roads here in Southern California. The car was so fast and composed that it deserved to be seen in Bimmer, so we made our way north a year later to meet with Ho and photograph his car on its home turf.
A family affair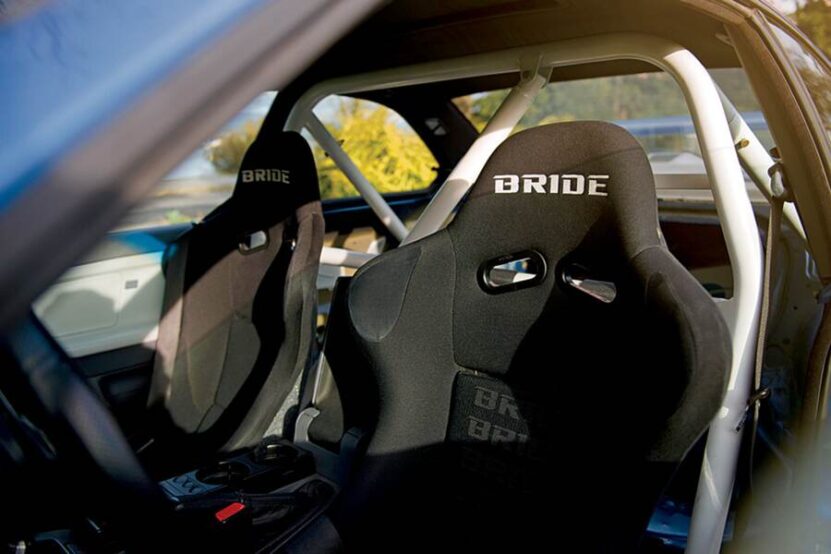 Like so many enthusiasts since the automobile was invented, Jefferson Ho bonded over cars with his father, from whom inherited his love of Bavarian machinery.
"BMWs were a big part of my childhood growing up due to the fact that my dad and his three brothers all owned E30s," says Ho. "It's also what kept my dad and me close."
Interestingly, his father's E30 was the only one out of the fraternal bunch that had been modified. His father's tinkering inspired Jefferson to modify his own cars, starting with Japanese makes before diving into the BMW pool with an E9X 3 Series just like one his dad owned, right down to the color.
As cool as that car was, Jefferson had his eye on an M3, specifically the boxy E36 of 1995 to 1999, and he had plans to modify his car before he'd even bought it. He's not a power junkie but an enthusiast who prioritizes braking and handling. With that in mind, the relatively light and not particularly powerful E36 is the perfect M3 for those priced out of the E30 M3 market.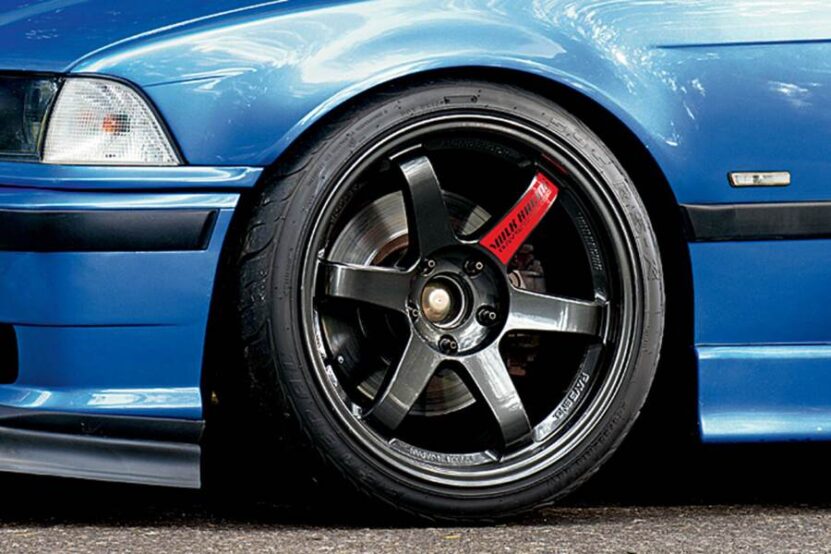 "I've always been a fan of suspension and handling, the way the car moves around corners, and not so much about straight-line speed," Ho smiles. "Fast in, fast out of the turns is definitely more fun than just relying on straight-line power, right?"
That philosophy led Ho to leave his car's 240-hp S52 engine untouched (save for a VAC Motorsport baffled oil pan to avoid oil starvation under lateral g's) even as the rest of the car was undergoing high-performance modifications inside and out.
"Stock," he says. "Completely stock down to the original air filter."
That isn't to say that he resisted all underhood upgrades. He built this car for both street and track driving, and the stresses of the latter made reliability a priority. He knew he needed to keep engine temperatures under control, so he upgraded the cooling system with a 42mm PWR radiator, a SPAL fan, an EMP Stewart water pump with 80°C thermostat and Bimmerworld silicone hoses.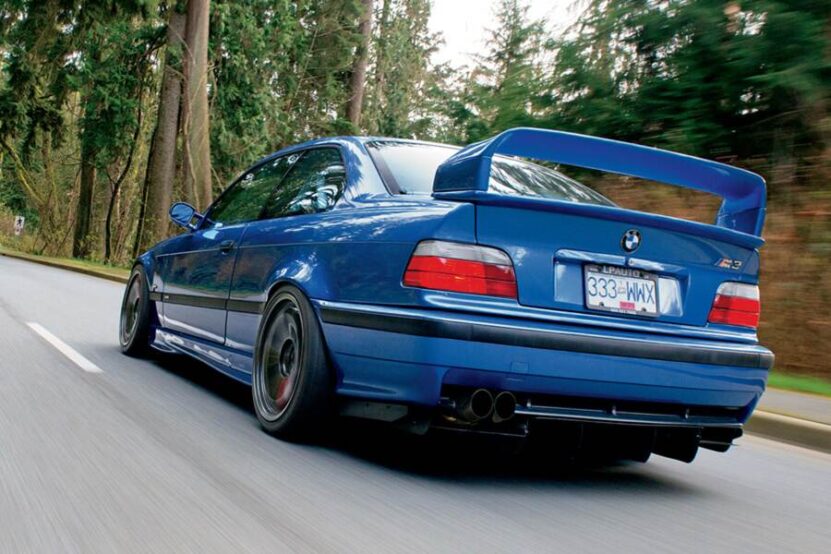 He also fitted UUC underdrive pulleys for the ancillary components to free up a bit of power, a UUC System U exhaust to improve the sound and UUC transmission mounts to stiffen a known weak point in the E36 M3's drivetrain, plus a UUC Evo 3 short shift kit topped by an RK5 shift knob.
Go wide
With reliability assured, Ho turned his attention to the car's handling. He wanted to run wider-than-stock wheels, and he also wanted to widen the wheel tracks to improve lateral stability and mechanical grip. That, in turn, would require wider fenders, but Ho wanted to retain the essential "look" of the stock BMW body despite that modification.
The solution? Graft on a quartet of fenders sourced from an E46 330i, which added two inches of clearance at each corner.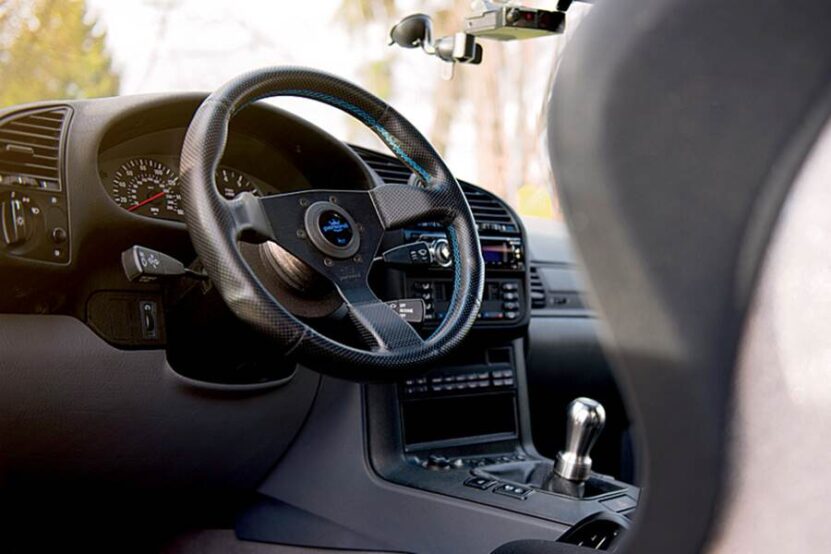 "Going with the OEM E46 fenders and going through the work of cutting the E36 fenders to weld them on was the way to keep it looking as original and clean as possible," Ho explains. "Of course, there are many other options, like adding fender flares that are riveted on, but that was not the look I was after. I prefer classy over-aggressive."
The modified fenders are Ho's favorite part of the car, and their function is enhanced by the upgrades they facilitate. First, the wider sheet metal allowed him to replace the stock staggered-width 17-inch wheels with a set of Volk Racing TE37 Super Lap wheels that measure 9.5 × 18 inches at all four corners. Made in Japan by Rays, the forged Super Laps are 400 grams lighter than the standard TE37s, a reduction achieved by machining part of each spoke as well as the rear of the wheel.
The wheels are mounted with ultra-high-performance Federal 595RS-R tires in 245/40-18 sizes all around, which helps make the car's handling more neutral and less prone to understeer than the stock staggered sizes. Inboard of the wheels, the stock E36 M3 brakes are fitted with Performance Friction PF01 FR brake pads and UUC stainless steel lines.
The stock springs and dampers were replaced by 650-lb. front/800 lb. rear H&R springs paired with AST 5100 inverted monotube shocks from Holland. The dampers are adjustable for rebound damping, and they're upgradable to include high- and low-speed compression damping adjustment as well as remote reservoirs.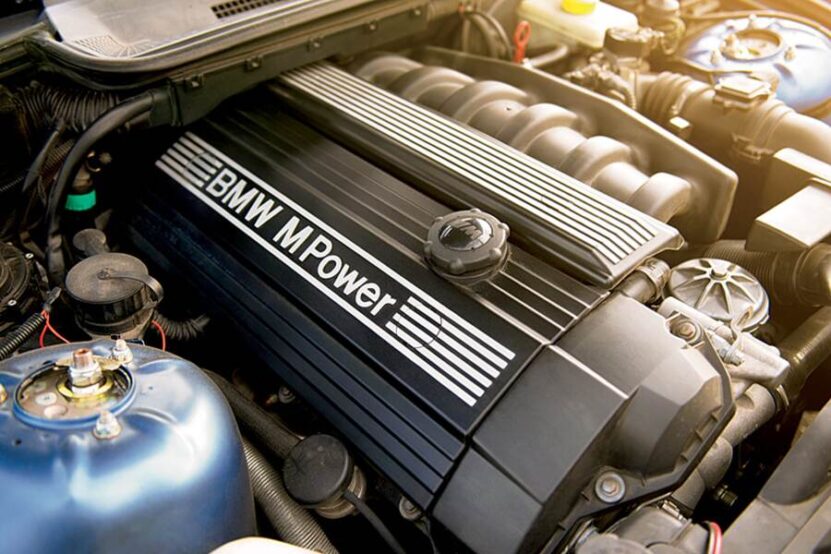 To reinforce the chassis, Ho fitted AST spherical rear shock mounts with Z3 reinforcement plates, Vorschlag camber plates, Powerflex rear trailing arm bushings and AKG front control arm bushings, plus an Original BMW X-brace (stock on the E36 M3 LTW) and an H&R 28mm front anti-roll bar.
To improve the M3's aerodynamics to match the increase in mechanical grip, Ho installed an MA Shaw E36 M3 LTW rear trunk spoiler and risers, a VIS hood in carbon fiber, a Rieger GT front spoiler extension and a rear diffuser underpanel from Mateo Motorsports.
Built for the track, but used daily
That list would seem to confirm Ho's determination to make his E36 M3 handle as well as possible. And it does: The car hugs corners like a go-kart, with great traction from the wider wheel and tire combination. The car feels solid, with no tendency to kick out the rear on corner exits like a car with too-stiff spring and damper rates. It feels like a car that was built for the track, yet the ride is hardly brutal.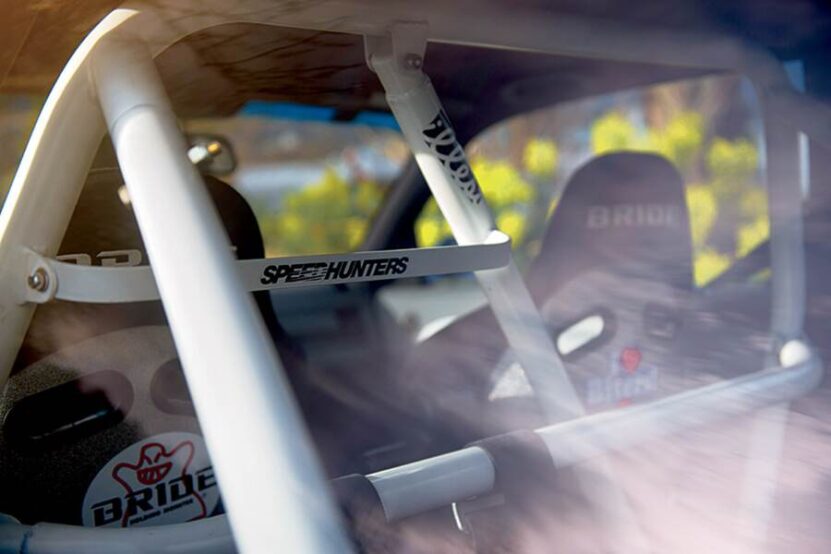 Neither too stiff nor too soft, it's just right, and quite unlike what Ho feared he'd get when he installed aftermarket springs and dampers on his daily driver. He didn't want a full-on race car, after all, but rather an M3 that could be enjoyed to the max on the track without losing all civility on the street. As our test drive on some twisty Vancouver roads demonstrated, he achieved both aims simultaneously.
Just like the suspension, the no-frills driver compartment straddles both the road and the track. The radio and air conditioning remain, but otherwise, it's all about performance and safety. The four-spoke M3 steering wheel has been replaced with a 330mm Grinta steering wheel from Personal, the "modern," high-performance side of Nardi which has been supplying steering wheels to Formula One for decades. A pair of Japan-made Bride Zeta 3 seats are mounted on VAC Motorsport mounts and mated with G-Force six-point harnesses, while an Autopower four-point half cage has replaced the rear seat to protect the occupants in the event of a rollover.
Fortunately, Ho hasn't had to test the roll cage, though he has given his car plenty of exposure to the hazards of the track. On his journey from Vancouver to Los Angeles and back, Ho and his M3 even stopped for a track day at Buttonwillow in California's Central Valley. Buttonwillow gets seriously hot in the summertime, with ambient temperatures that regularly exceed 100°F. Thanks to the upgraded cooling system, his M3 handled the heat with no problem, while the driver and car tackled the unfamiliar track with similar aplomb thanks to the car's superb handling and easy-driving manners.
"Even though my stock motor M3 makes less power than most of the cars in my track group, it can keep up with the newer BMWs and turbo all-wheel drive cars," Ho says.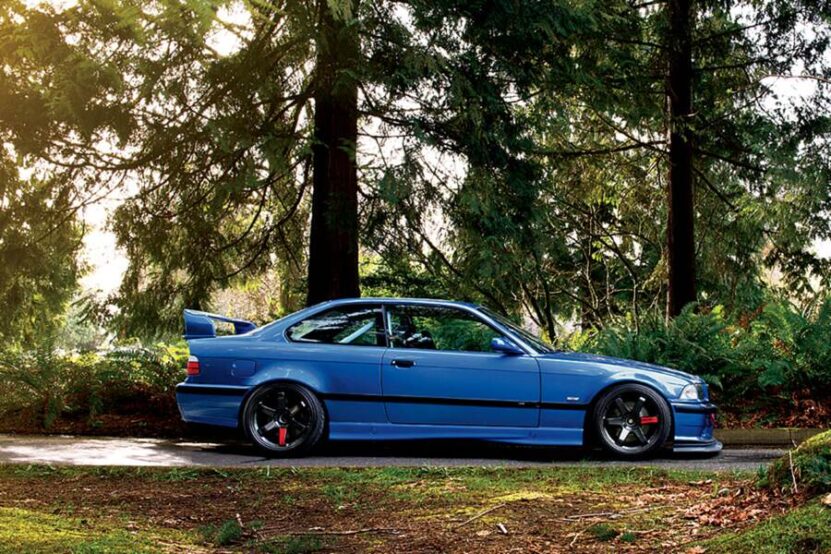 It probably surprises them when it does. Even with its wider wheel tracks and fenders, Ho's car looks like almost stock until you look carefully. That's exactly the way he wants it, yet this car can take corners like a full-on racer.
This E36 M3 is still Ho's daily driver, and it's covered more than 80,000 miles taking him to work and back every day. He registered it only for warm-weather use at first, but now he drives it year-round, even in Vancouver's occasional winter snow.
"It's nothing!" he laughs.
And because he's from a BMW family, he lets his mother drive it once in a while, too, although the seats are fixed in position and she doesn't really fit. "She can't see over the dash but tells me she gets a lot of people giving her looks!"
Of course, they do. Though it's nothing out of the ordinary at first glance, this E36 M3 only gets more interesting the longer you look at it.