Taking inspiration from the high-performance cars of the Japanese domestic market, John Zhang turned his 135i into a nonpareil style statement.
Most BMW fanatics whose cars are seen on these pages are performance freaks: people who go for breathtaking power delivery, extreme aerodynamics and race-car handling.
"I'm almost the exact opposite of that," says John Zhang. "I am much more into the aesthetics of a car than its performance."
Indeed he is. Not only did he equip his Monaco Blue metallic 135i with titanium Project Kics Neo Chrono extended wheel nuts ("The bolts are titanium, as well!"), he burned them in his backyard to get them just the right bluish hue that would accent the car's Titan Silver SSR wheels.
The 26-year-old photographer from Pasadena, California – he's shot for Bimmer, by the way, and you can see his photos of Long Tran's E36 track car in issue #109—is himself a rather cool cat, someone who likes things that are a bit extraordinary.
Hey, just look at his car.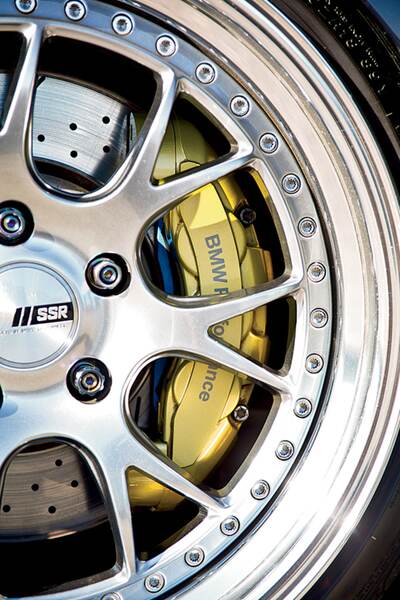 The changes to Zhang's 2009 135i Coupe don't jump out at first glance. A certain difference is noticeable, sure, but it's subtle, a seductive smile rather than a forward approach. It takes a second look to see that special mirror, the impeccably designed trunk lid, and that oh-so-perfect stance. The car sits not too low but just right, and it eschews the bulging fenders, ostentatious aero bits and gigantic exhaust pipes that too many cars seem to acquire in the customization process. This one, on the other hand, is all about Zhang's very good taste.
A preference for the extraordinary
Zhang was already a BMW fan when he got the car right out of college—his parents owned a 325i that he'd liked very much, sneaking it out on weekends to drive around L.A.—but when it came time to get a car of his own, he wasn't looking for a 3 Series.
Too common, Zhang says.
"I like exclusivity," he says. "I like things that people usually don't have."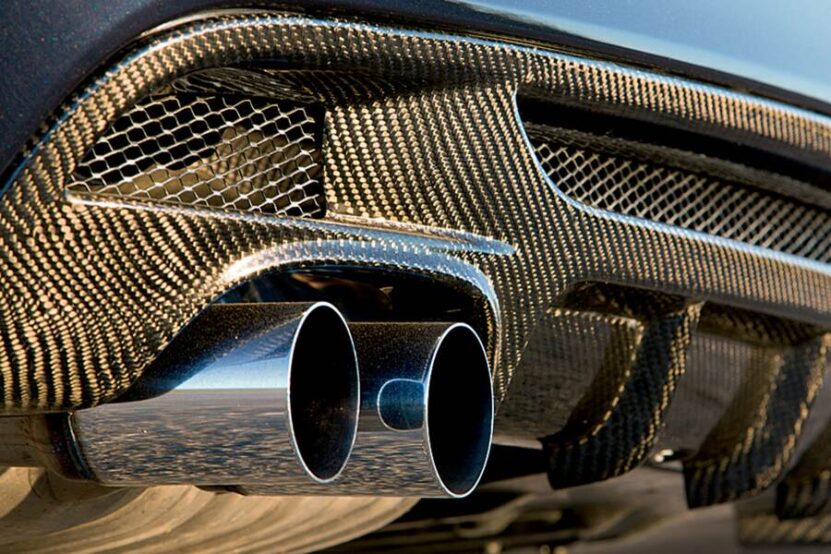 The 1 Series was still a rare sight in late 2008 when Zhang placed an order for a 128i Coupe at his local BMW dealer. (Still is, actually…) That 128i became a 135i while he waited for delivery—"The Germans take a month off during Oktoberfest," he remembers—and he didn't regret the switch when the car arrived several months later.
"I wanted it for the great handling, so there was no motivation in the beginning to modify the car," he says. "I kept it stock for a year. I liked that there were really no gizmos and gadgets to mess around with."
In early 2010, however, Zhang started to feel that a bit more exclusivity was in order.
"I wanted it to be more aggressive, looks-wise," he smiles. "Style-wise, I am a fan of stance cars, but when it comes to the driving experience I'm a kind of purist. I never wanted to change the driving experience from the original. I like the European car handling of the 135, but style-wise I prefer the Japanese way—well, with a little twist."
Zhang's "twist" was inspired by Japanese Domestic Market cars or JDMs, the high-performance, enthusiast-oriented machines from Nissan, Toyota and Subaru that are rarely seen outside the home market. With these stylishly stock cars as his template, Zhang began to alter the Mothership's Wunderkind.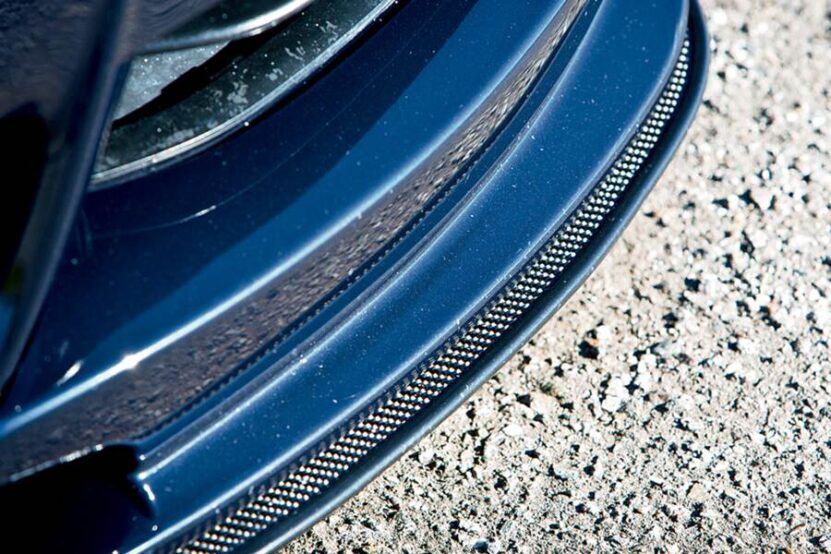 Starting with the aerodynamic elements, Zhang added a front lip from Japan's 3D Design and a few parts from U.S. companies: an LT Motorworks custom splitter, iCarbon rear diffuser and an Auto Technic trunk lid.
"I changed very little at first," he says. But then, he smiles, "It got out of hand."
Axis of style
He didn't have an end vision in sight, so he kept trying out new looks, treating his BMW to new parts like he'd buy himself new shoes. His idea of what the car bought to look like kept changing, and his trial-and-error method started to get rather pricey.
"I tried a lot of things," Zhang admits. "I went through a lot of wheels and tires and whatnot. It was a big guessing game for a while. If something didn't work out, I felt it was time to move on to Plan B."
In the end, that "process" would cost him around $25,000, but he eventually arrived at the car you see here. Visually, the defining element is a set of Japan-made SSR MS3 wheels that measure 9.0 × 18 up front and 10.0 × 18 at the rear. The SSR wheels are mounted with a compatriot set of Falken Z452 tires measuring 215/35-18 at the front and 245/30-18 at the rear.
In place of the stock struts and shocks, he installed a set of coilovers from ST, a Southern California company that's now part of Germany's KW organization. The coilovers are adjustable for ride height only, and they allow the suspension to be set anywhere between 1.4 and 2.4 inches lower than stock; Zhang went for the lowest possible drop.
A Japan-made Cusco strut tower brace in aluminum reinforces the chassis in this crucial area, while the end plates in "trademarked Cusco blue" provide a nice accent against the car's Monaco Blue paint.
Also under the hood, a ram air system from RPi (Race Precision) force-feeds cool air to the stock airbox. The SoCal firm says its method is far better than the typical cone-style aftermarket intake at increasing the amount of air available while preventing heat soak and reducing intake temperatures. RPi says the intake system is good for an additional six rear-wheel horsepower—not bad for a $99 mod!
With 300 hp and 300 lb-ft at the crank, the N54 engine is pretty powerful even in stock form, and Zhang didn't want to sacrifice driveability in pursuit of huge power boosts. He didn't want to leave the electronics stock, either, so he went with a Vishnu PROcede tune that brought output to a dyno-tested 354 hp and 377 lb-ft at the rear wheels.
Of that, a BMW Performance exhaust contributes five hp and three lb-ft, not to mention a better sound and less weight. More extreme tunes are available, of course, but this car still had to handle stop-and-go traffic conditions and short hops to visit clients and supermarkets, hence the modest upgrade.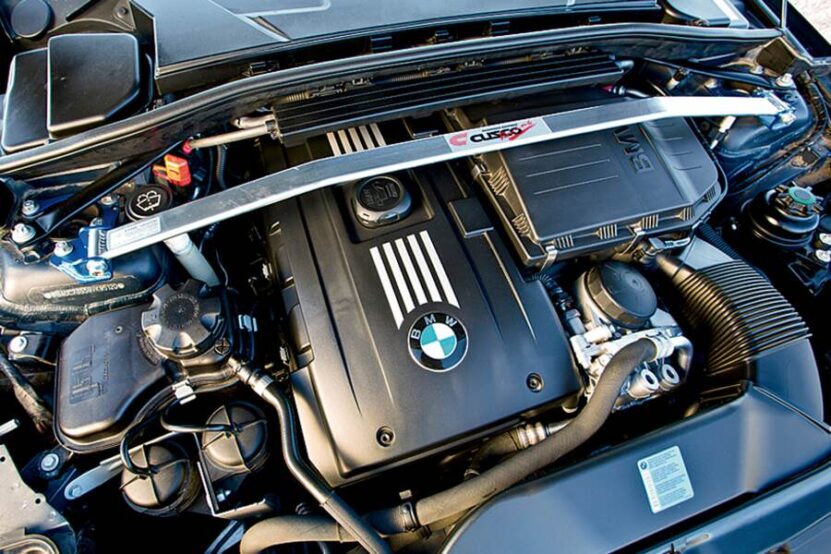 Bits from 
BMW

 Performance

Along with the aftermarket parts that found their way onto his car, Zhang began to use Original BMW parts for the desired improvements.

"Those mirrors are actually from a 1 M Coupe," he explains. "They're plug-n-play."

So are the LCI (or "life-cycle impulse," the mid-generation styling update we used to call a facelift) taillights that come from the 2011-on version of the 1 Series. The same goes for the BMW Performance side skirts, brake kit, Sports seats, M3 steering wheel, and the aforementioned exhaust system.

Not that these pieces didn't come in for a bit of customization: Zhang modified the side skirts with custom LT diffusers, and he fitted Japan-made Endless brake pads for dust-free braking with a low-temperature "street" bias.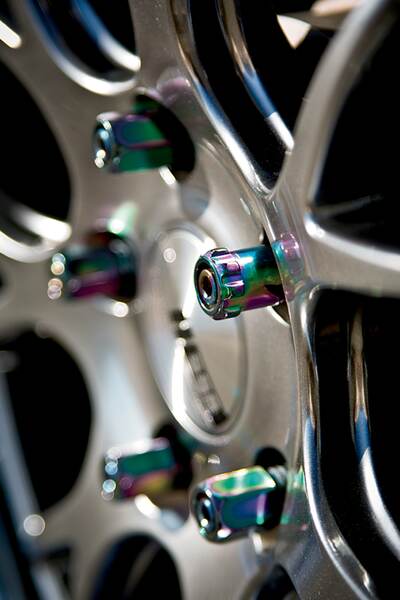 As that last item suggests, Zhang's 135i is strictly for street use, negating the need for track-biased brake pads or multi-adjustable suspension.
"I have this car as a daily driver," Zhang explains. In Southern California, that means dealing with jam-packed freeways and two potholes on every street corner. Since Zhang is often taxing the suspension further by carrying a heavy load of photographic equipment, he had to compromise.
"I honestly maxed out my suspension on the lowest setting," he says. "If I wanted to go lower, I would have had to modify the ST coils by removing the perches. However, that would ruin the ride quality, which I ultimately did not want to do. The ST coils have always treated me very well, so I stuck with them instead of going with a suspension setup that would give me even lower ride height."
Even so, Zhang's car feels a bit strange to one accustomed to stock Bimmers or full-on race cars. There are a few tricks to driving it, he advises as we head for a spin on the Angeles Crest Highway in the mountains above Glendale.
A thing of beauty, not brawn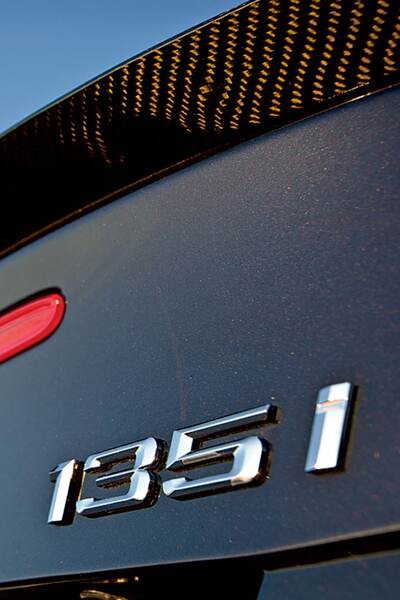 How right he is.
While the car feels just fine going in a straight line, cornering is a bit touchy, just as I'd expect from a stance car. Deep down, the 135i seems to really, really want to take this curvy road at speed, but the slightly oversized tires keep rubbing inside the wheel wells. Every time I steer in, the sidewalls scream in agony.
It is a bit of a conundrum, I'd say. John's dream car is obviously able and willing to handle the past roads superbly. There is plenty of power for exiting even the faster corners, and I have to admit that the BMW is holding the line perfectly on its splendid Falken tires. Even so, I find myself holding back, reluctant to give it a good try.
The BMW Performance brakes outfitted with those Japanese Endless pads ("No brake dust!") do an excellent job, and the steering is wonderfully direct. Alas, the next hairpin comes around and I shift into the careful mode, unwilling to fully commit.
Strangely though, it doesn't matter too much, even to such a dedicated speed freak like me. When I hand the vehicle back to John I tell him that I really like it.
Seriously. I do.
Zhang's vision of the perfect BMW, as he's already pointed out, is a thing of beauty, less of brawn.
I can live with that.
Whether John can live with it remains to be seen. Since I drove his car, he's changed the wheels and the front lip spoiler, and he might do so yet again. He's also thinking about installing a pair of race seats and a BMW Performance steering wheel.
"I've always thought the car was perfect, but if the opportunity comes to change it a little, I would."
Perfection is fleeting, after all.