Unable to afford a real E30 M3 Sport Evolution, Tim Blink built his own version of BMW's homologation special, adding genuine Sport Evo parts to a U.S.-spec car already modified with a six-cylinder S50 engine.
Tim Blink can blame his younger brother Bob for his obsession with BMW automobiles. Until he drove his brother's 1985 E30 325, he hadn't realized anything was missing from his red-blooded American V8-powered Camaros, Trans-Ams and Corvettes.
"I had never driven anything like it at the time, and the memory (of that car) has never left me, " Blink says. "The feedback from the steering, throttle and overall balance of the car just blew me away."
Despite that epiphany, it took Blink eight years before he was ready to own a BMW.
"My first BMW was a 1993 E36 325is that I purchased used in 1995," he recalls.
Having taken the first bite, he quickly became a fan of the cars from Munich.
"I went to a 2001 E39 540i Sport, then a 2004 E60 545i Sport," he says, noting that his current daily driver is a 2003 E39 540i M-Technic that he has owned for almost five years. "I think it is the sharpest 5 Series that BMW ever built."
Through that succession of 5ers, Blink had his eye on another BMW: the E30 M3. He didn't want just any old E30 M3, however, but a Sport Evolution model. The Holy Grail of E30 M3s, Sport Evos represent the ultimate expression of the breed, and only 600 were built from December 1989 through March 1990.
The product of continued
development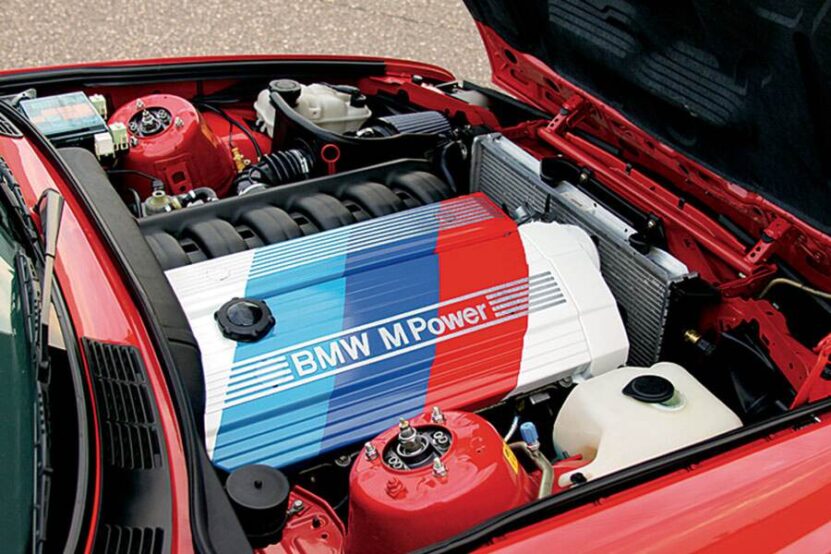 Because the E30 M3 served as BMW's premier touring car racer, the engineers at M continued to develop the model throughout its production cycle, which began in March 1986 and ran through the end of 1990. The company developed seven versions of the car, including the Evolution I, Evolution II and Sport Evolution, all issued to homologate various parts and pieces for use in Group A Touring Car racing.
In the Sport Evo, the horsepower developed by the S14 four-cylinder engine jumped to 238 from just 195 in the original 1986 edition, while weight was reduced substantially through the use of thinner glass for the windows, a lighter trunk lid and bumpers and brake cooling ducts in place of foglights. The fuel tank's capacity was reduced, ride height was lowered by 10mm and the car's aerodynamic elements were improved for greater downforce.
Trouble is, the Sport Evolution was never imported to the U.S., while those in Europe that weren't turned into racing cars now command stratospheric prices: around $150,000, three times the price of an ordinary U.S.-spec E30 M3.
Blink realized that his most affordable way into E30 M3 Sport Evo ownership was to build one himself…or to build something that would offer similarly "evolved" E30 performance.
He decided to look for an E30 M3 that had been converted from S14 four-cylinder power to an S50 six-cylinder engine from the 1995 E36 M3, whose 240 hp are nearly identical to that of a factory Sport Evo. Before prices for even ordinary E30 M3 prices started to climb so precipitously, these conversions were quite common among BMW enthusiasts who liked the light and nimble feel of the E30 M3 but wanted the power, torque and reliability that come with the six-cylinder engine. Lots of these cars exist; the trick is finding a car in which the engine swap has been completed professionally, without cutting corners in an attempt to save money.
Already modded, and almost there
Blink's search was soon rewarded when he found a 1990 E30 M3 that had been converted to S50 six-cylinder power while receiving the majority of the Evo mods. It was even the right color: Brilliant Red, just one of two colors in which BMW offered the Sport Evolution, the other being Jet Black. The M3 belonged to Faruk Ansari, an avid collector from Indiana who owned several M3s and had spared no expense in building the car he was selling. The deal was struck and the M3 moved from the Hoosier State to Tim Blink's garage in a Twin Cities suburb in Minnesota.
For Blink, the car represented a terrific starting point for the project he had in mind. He set out to build a car that would resemble an aggressive Sport Evolution model, sourcing parts from all over the U.S. and Europe to get exactly the right look and feel.
The car's S50 engine had already seen significant modifications that included Schrick intake and exhaust camshafts, a polished and ported cylinder head, a JR Racing light aluminum flywheel, 24-pound injectors and an engine management system from Turner Motorsports (Euro HFM). The engine exhales through a 2.0-inch Group A replica exhaust system, and it delivers an estimated 300 horsepower to the rear wheels through a five-speed transmission from the E36 M3 and a 3.46:1 differential with cooling fins.
Although the E30 M3 has a well-deserved reputation for agility and handling, Blink thought he could make some improvements. In addition, he wanted to achieve the aggressive stance of a Sport Evolution in terms of tire size—the Sport Evo rode on 7.5 × 16-inch wheels with 225/45ZR-16 tires, as did the earlier Evo II—and ride height.
"I didn't want low rider stuff," he explains, "just aggressive."
He ended up taking it quite a bit beyond Sport Evo spec where the rolling stock is concerned. The M3 rides 8.5 × 18 front and 9.5 × 18-inch rear alloy wheels from Velocity Motoring. H&R 15mm front wheel spacers keep the front tires from rubbing on the suspension and rolled fenders add to the clearance needed by the Bridgestone S Drive tires that measure 225/35ZR-18 at the front and 245/30ZR-18 at the rear.
Blink bought the car with fully adjustable suspension from Ground Control, Suspension Techniques front and rear anti-roll bars and a Racing Dynamics rear strut tower brace to help keep the chassis square.
"The stance of a car is everything to me, and I adjusted the suspension for that perfect racing look," says Blink.
To help stop the M3 hybrid, previous owner Ansari had installed a Brembo big brake kit up front with red calipers and cross-drilled rotors and Turner Motorsport brakes at the rear, also with red calipers and cross-drilled rotors.
"The brake setup is one of my favorite parts of the car," said Blink.
Looking the part…and driving
like a dream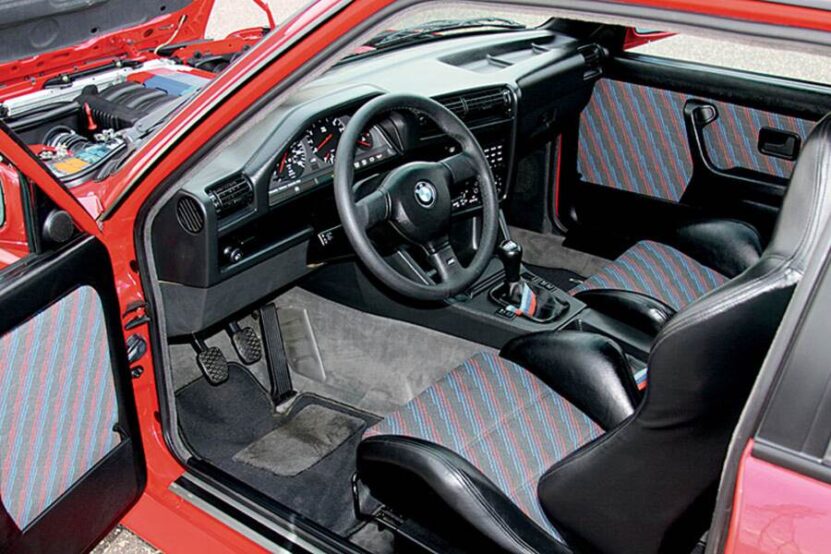 That said, the appearance of his Sport Evolution look-alike was at least as important to Blink as the car's mechanicals.
"When I purchased the car, it had a black carbon fiber hood and roll bar for track use," he says. "I was looking for a more 'stock' appearance and returned to the original hood and removed the roll bar."
Achieving that "stock" Sport Evo look required working with a variety of suppliers and spending a significant amount of U.S. currency in Europe, but Blink's M3 now looks the part. The front spoiler, carbon fiber front splitter and rear wing are all proper Sport Evolution parts, with the rear wing now fitted with a Gurney flap in carbon fiber produced by M.A. Shaw. Blink's search for perfection went as far as sourcing the proper European tow hooks, BMW Motorsport door handles and rear license plate trim. The front grille is the European version with the "eyebrow" over the headlights and blacked-out rings.
Inside, Blink fitted a pair of Evo-correct Recaro SRD front seats—black with the proper Evolution fabric inserts, just like the rear seats and door panels. The steering wheel, shift knob and orange seat belts are also Sport Evolution correct.
Getting the Sport Evo to look exactly right may have been Blink's focus, but performance hasn't been neglected in the process. The car starts easily and settles into a nice, deep rumble as the exhaust gases escape through its Group A-spec exhaust system.
The clutch pedal is light and so is the aluminum flywheel, which means that you have to be a bit careful off the line to get away smoothly. Once moving, the car feels lithe and active—small bumps and road irregularities come through the wide tires and performance suspension, but the car feels remarkably supple over larger bumps.
With 300 horsepower on tap and little weight to move around, the car feels powerful and obscenely quick. It doesn't have really long legs, but it gets up to speed right away, making it nearly perfect for Sunday morning drives on twisty two-lane roads.
The real test comes in the corners, and here the car turns in beautifully and remains well-planted while hurtling through successive bends. It begs to be driven, and with aplomb! How well the car performs is a tribute not only to Blink's ability to pull the project together but also to BMW's engineering of the basic mechanical components. Modern cars may be much more sophisticated, but they're not really much more fun to drive than this old E30.
As enjoyable as it is on the road, Blink's M3 Sport Evolution look-alike doesn't get nearly the exercise it deserves.
"I would love to track the M3, but for right now it's a garage queen," Blink admits. "I drive it as often as possible, but with two boys in baseball, my free weekends are a rarity. Right now, I don't have the funding or time to properly track the car and improve my skills."
Given the extraordinary capabilities of the machine in his garage, we think Tim should encourage his two sons to exchange stick-and-ball sports for track days – fun for the whole family!