During the E30 generation, BMW offered a pair of "is" models with a sport-tuned suspension, seats, aerodynamics and wheels, all mated to your choice of a four- or six-cylinder engine. Which "is" is more fun to drive: the lightweight 318is or the more power?
After "M," the two most important letters in the performance BMW alphabet are "i" and "s." The changes signified by those two little letters have never been drastic—they've usually been limited to Sport suspension, seats and trim, sometimes different wheels—but they've resulted in some of the German manufacturer's most coveted automobiles.
The precedent was set in 1980 with the launch of the E21 320iS, the first BMW to have "is" added to its model name. [Note: The "is" distinction, in this case, was unofficial on the corporate level, added by BMW's U.S. dealers to designate 320i models sold with the Sport package of options outlined below.]
The 320iS featured options that, although previously available individually on the 320i, were now grouped together to create a new "Sport" package. The M10 motor and gearbox were standard issue 320i, but the car was otherwise upgraded with a limited-slip differential, a larger front anti-roll bar paired with a rear bar (the standard 320i did without a rear bar) and 13-inch mesh-design alloy wheels. Cosmetically, the 320iS got a set of fog lights and a large air dam while its interior gained a three-spoke steering wheel and deeply bolstered Recaro seats.
The 320iS was never offered in the U.S., but its successor was, along with a newly sported-up 5 Series when BMW introduced the E30 325is and the E28 535is in 1987. Like the 320is, these two special editions received suspension and aerodynamic upgrades to differentiate them from their standard counterparts, plus leather-covered Sports seats and (for the 325is) 6.0 × 14-inch cross-spoke wheels. While the 535is was only produced in 1987 and 1988, the 325is was built annually from 1987 to 1990.
For 1991 only, BMW also offered the 318is, virtually identical to the 325is but for its engine. Instead of a 2.5-liter six-cylinder M20, the 318is was powered by a 1.8-liter M42 inline-four.
Today, both the E30 325is and the relatively rare 318is have become cult classics and sought-after collectibles. E30s as a whole have attained a desirability that's almost on par with that of the earlier 2002s, the enthusiast fan base having essentially bypassed the intervening E21s. Among E30s, the 325is and the 318is are the ultimate non-M iterations of the range, and only the M3 is more desirable. As many owners can attest, both the 318is and the 325is can be great weekend fun cars as well as dependable daily drivers.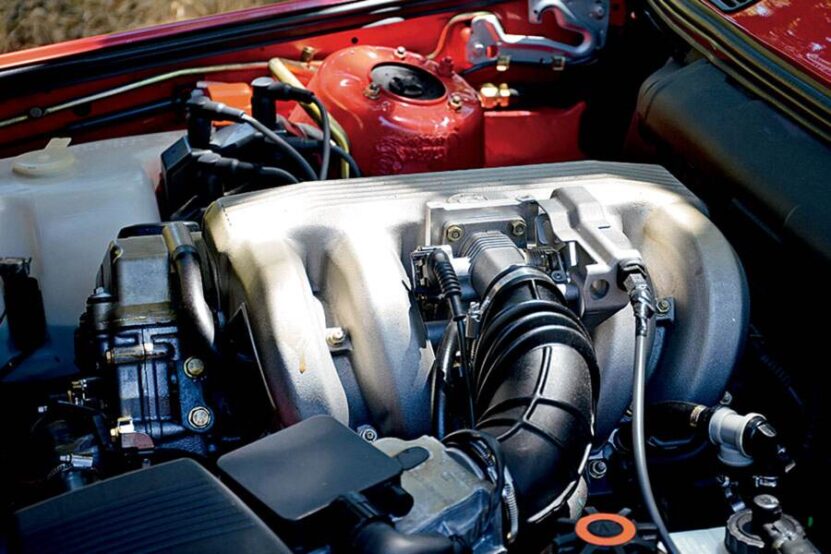 Trouble is, the cars are now at least two decades old, and they're so fun to drive that many have been flogged nearly to death, with few left in good, original condition. With that in mind, we wanted to revisit both E30 "is" models, provided we could find examples that hadn't been abused or heavily modified.
1991 318is Light and nimble
That isn't easy—just ask Larry O'Rourke, who provided his Brilliant Red over Natur 318is for this test. After searching diligently for about two years, he eventually tracked one down with a dealer in Newport Beach, California who'd acquired the car from its original owner, a retired Air Force captain from Wichita Falls, Texas.
"This particular car was very lightly optioned and was exactly what I wanted," says O'Rourke. "It was a rare sunroof delete and fog light delete car."
O'Rourke admits that he was after a 318is for largely sentimental reasons since his wife had purchased a new 318is in 1991 and later sold it.
"This one is an all-original, 73,000-mile car," he says of his current 318is. "You just can't find low-mileage E30s like this that haven't been completely modified or abused to the point of [needing] costly partial or total restorations."
Immediately after buying it, O'Rourke sent the 318 to a detailer who specializes in under-chassis and engine cleaning as well as concours-quality paint. The detailer spent five days scrubbing the E30 from top to bottom.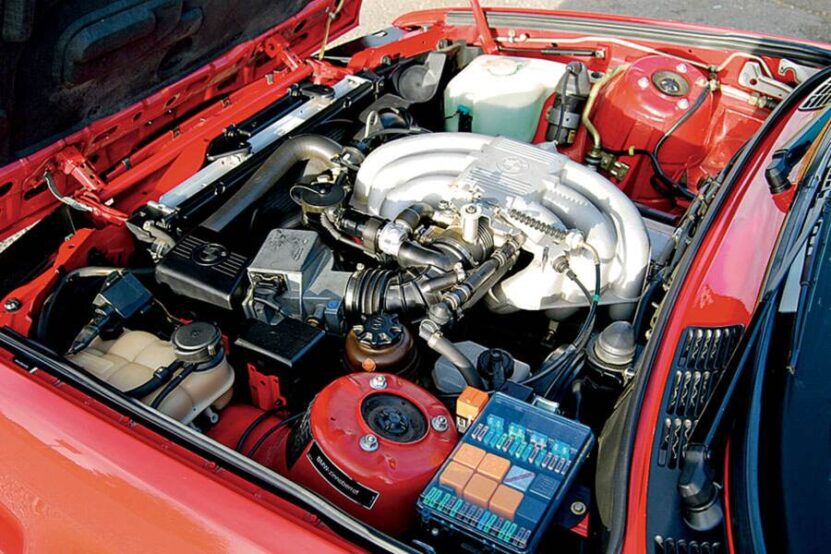 "They cleaned away twenty years of dirt and grime and when finished, every suspension piece, all the running components, engine and wheel wells were literally showroom condition," he says.
The BMW was tuned up and given some minor trim repainting. The final piece of the puzzle was locating the original window sticker.
"Most people throw them away," says O'Rourke. "However, I took a chance and contacted the original owner in Texas directly to see if he still had it. Turns out he did, and he mailed it to me."
Climb aboard the 318is and you're immediately transported back to an era when BMWs were a lot simpler and purer than they are today. The attractively designed Sport seats hold me firmly in place, and the driving position is upright and commanding, with great visibility thanks to the E30's generous greenhouse. Overall, the interior layout is utterly plain, almost stark compared to more recent cars.
With just 134 hp at 6,000 rpm and 127 lb-ft at 4,600 rpm, the 1.8-liter M42 is no powerhouse, though it revs quickly once underway. Its four-cylinder character is apparent immediately, particularly at higher rpm, where it's a little rougher and more raucous than a BMW six. But what it lacks in refinement it makes up for in sheer enthusiasm. In its day, the 318is needed 9.8 seconds to cover the 0-to-60 dash, but it feels quicker, especially on a twisty road.
Much of that is down to the nimbleness of its chassis. The possibility is the word that comes to mind, and it's here in spades. The 318is is easy to drive fast, and before long I'm exploring the outer limits of grip provided by the Sport suspension and narrow tires.
Even though 54% of its 2,602-lb. curb weight is over the front axle, that's still just 1,405 lbs, making the BMW's nose light and pointy, quick to respond to steering inputs. Chuck it into a second-gear hairpin and the front tires wash wide with just a bit of understeer, which then transforms into a neutral state as the BMW rotates adroitly past the apex. There is a considerable amount of body roll to contend with, but once the car rolls over and takes a set, the 318 corners with impressive stability.
Elsewhere, the brakes are well-matched to the power, while the steering and pedals feel substantial and accurate. And don't let the fact that there is a little four-pot engine under the hood fool you: A properly driven 318is can tear up a winding road with the best of them. This may be one of the most fun BMWs I've ever had the chance to drive, despite its modest output.
1989 325is Smooth power
So, is the 325is the same car with two more cylinders? To find out, I'll be driving the 1989 325is owned by Scott and Mary Saylor of Tucson, Arizona. Their first new BMW was an Alpine White 1983 320i, which they bought new and kept until May 1990, when they stumbled across this 325is.
"My wife and I were visiting family in Palo Alto, cruising El Camino Real in the old 320i when we happened to drive by Peter Pan BMW in San Mateo," recalls Scott.
A new Cinnabar Red over Black 325is was parked on the lot, and the Saylors couldn't resist taking a closer look.
"It turns out that even though this car had 5,170 miles on it, it had never been registered and was still owned by BMW NA," he explains. "It was one of the promotional cars used by BMW for shows back east."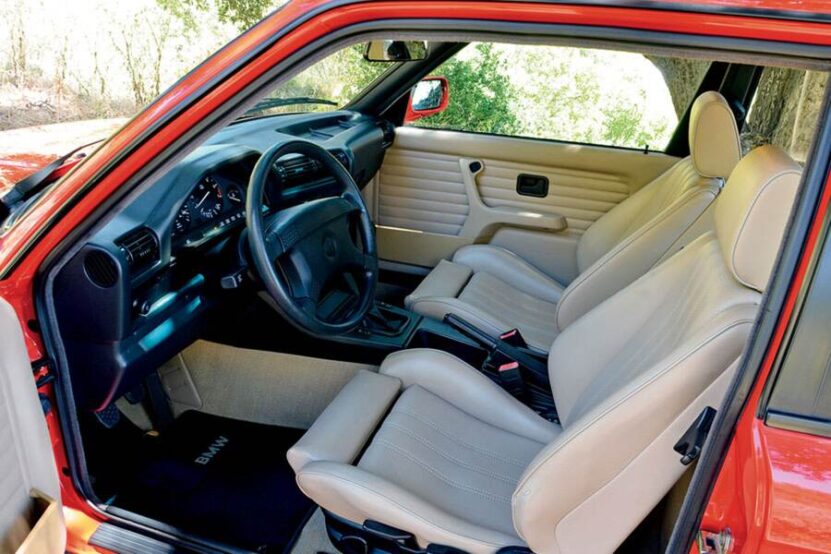 Not long after, the 325is replaced the E21 in their garage. Eight years later, a move to Tucson from Monterey, California found them lacking garage space, so the E30 was sold. Scott calls it a "foolish" decision.
"BMWs of yesterday, typical of all German cars from the '70s and '80s, were overengineered and had a much higher build quality than the competition," says Saylor. "The exterior lines are not streamlined, not very unique, but they are timelessly classic."
That timeless quality was exactly what the Saylors missed after selling their E30.
"Fast forward a couple years and my wife, who was now driving a Prius, was really missing 'Ruby,' as she fondly called the 325is," Saylor continues. "I began to search for another E30 325is but could not find a car that hadn't been rusted out, beaten to death or modified by boy racers."
In a last-ditch effort, Saylor contacted the person to whom he'd sold the 325is. The buyer, a BMW collector in New York, was still storing it in a warehouse in Emeryville, California and agreed to sell it back. At Christmas, Mary Saylor got a huge surprise when she opened the garage to find Ruby parked inside.
Having the BMW back was like being reunited with an old family member, and it even prompted Scott to sell his 1990 E30 M3.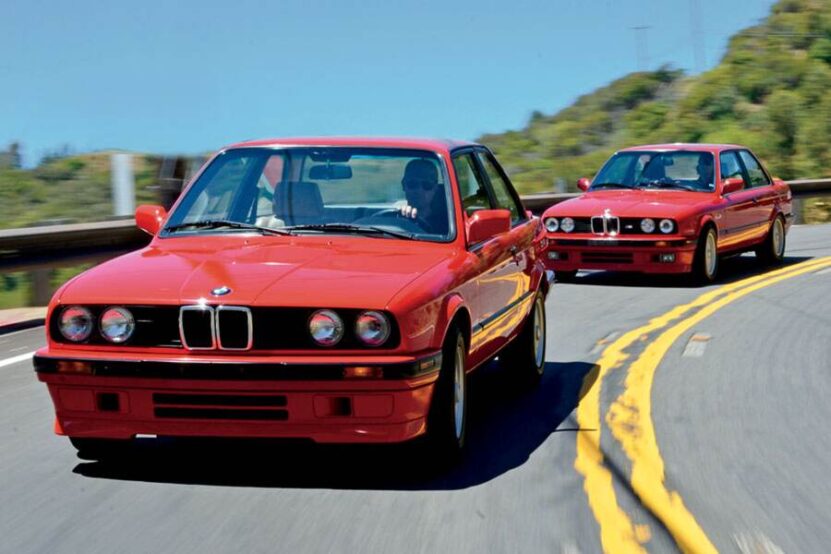 "The M3 has somewhat more power, but handling and turn-in were almost identical," he says. "The 325is runs so smoothly and handles so well, I saw no need to keep the E30 M3."
That's a matter to be considered another day; this time, we're out to find out how well this 325is compares to its 318is counterpart. Its interior is virtually identical, though the more upscale 325is got leather upholstery where the 318is made do with vinyl—or, in BMW-speak, "leatherette." Beyond the seat surfaces, the most noticeable difference is the older three-spoke Sport wheel, which not only lacks the airbag that was standard on 1990-and-later E30s but also feels and looks a bit better than the four-spoke wheel in the 318.
Motoring down the same section of road that we enjoyed in the 318, I immediately notice the M20 six's additional power and refinement. Where the M42 has just 134 hp and 127 lb-ft, the M20 has 168 hp and 164 lb-ft, with those peaks arriving at 5,800 and 4,300 rpm, respectively. It's noticeably more powerful, not to mention far more refined. In fact, the 2.5-liter M20 inline-six is an absolute gem of an engine, creamy smooth in its power delivery and with an eager character that permeates the entire car. Revved to its horsepower peak of 5,800 rpm and beyond, it emits the mellow, raspy growl that can only come from a BMW inline-six.
Power vs. agility
Riding on lowering springs, the Saylors' 325is doesn't lean quite as much as O'Rourke's 318is, though the difference in overall handling isn't all that great. One big distinction is the feel at the front; with 1,507 of its 2,844 lbs. over the front axle (where the 318is places just 1,405 lbs.), the 325is turns in less sharply than its lighter sibling. It's not that the 325 isn't nimble and responsive, only that it's less so in direct contrast to the four-cylinder model. It's carrying another 102 lbs. over the front axle, and it feels like it.
Like the 318, the 325 is very chuckable, and it can still carry an impressive amount of speed down a winding back road. Feedback and predictability are generous enough that you can almost immediately get up to the limit of adhesion and keep the car there, working the chassis between a neutral state and one of gradual and predictable oversteer as the BMW whips back and forth through the turns. The brakes of both models are perfectly usable, slowing these relatively light cars in a predictable and reassuring manner.
Driven at a fast pace, these BMWs feel similar. They're both exceptionally fun to drive and predictable at the limit. Choosing between the two obviously comes down to engines. For my money, the 325's inline-six makes it that little bit more desirable, though the 318's four-cylinder recalls the thrashy and infectious character of the classic 2002. Also, the smaller engine returns better fuel mileage and uses a timing chain rather than the M20's timing belt, which has a higher chance of failing and causing major engine damage if not replaced on schedule.
Of course, the Saylors have kept their engine (and the rest of the E30) up-to-date on maintenance, as has O'Rourke. Both cars receive the proper preventive treatments and are perfectly reliable as a result.
Even some 20-plus years later, these performance versions of the E30 remain exceptional driver's cars and an absolute blast to drive. But if you want one of your own, you'd better get one quick. These cars are disappearing fast, and those that remain are being squirreled away in enthusiasts' garages. We can't say we blame them, but cars as fun as these two deserve to be driven as often as possible if only to relive BMW's glory days of the late '80s and early '90s.