Though often overlooked by enthusiasts, the 1977-'83 E21 3 Series played an important role in BMW's history by bridging the gap between the legendary 2002 and versatile E30. It's time to take a fresh look at this under-appreciated classic
Like anything that follows in the footsteps of greatness, the E21 3 Series has lived in the shadows of its 2002 predecessor for decades. The '02 not only helped save BMW from financial ruin, but it also captured the imagination of the car-buying public unlike any BMW before…or arguably since. The E21 3 Series, by comparison, was merely another competent sports sedan from Bavaria, something the automotive world had grown accustomed to by the mid-1970s.
To make matters worse, the E21 was developed during the darkest era of the modern automobile: Just as the OPEC oil embargo of 1973 sparked a sudden demand for improved fuel economy, any new vehicle sold in America also had to meet much stricter safety and emissions regulations. That added weight and complexity, both of which had a correspondingly negative impact on fuel consumption.
The net result was that almost every new car introduced during the Ford and Carter administrations performed worse than its immediate predecessor. Weight went up, horsepower went down and performance paid the biggest price. Although the E21's engineers made a valiant attempt to conform to the new regulations without diluting too much of the 2002's spunky character, they met with only moderate success. The E21 was larger, heavier and slower than the '02 it replaced, and many BMW enthusiasts were understandably disappointed.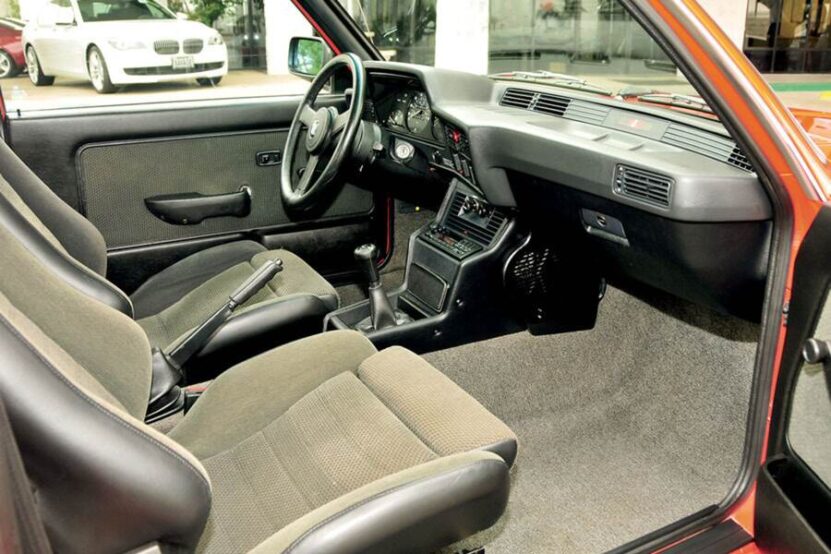 That was 1975, however. Thirty-six years later, would hindsight prove more favorable to the E21 than contemporary opinion had been? After all, the original 3 Series was undoubtedly a better sports sedan than anything from BMW's competitors, all of whom were also turning out larger, heavier and slower machines during the 1970s. Perhaps a fresh look at the E21 would show it as a better car than its lukewarm reputation might suggest.
We decided to track down a representative example of the breed to see how well the model has withstood the test of time. Before we drive it, let's take a look at the E21's history and the difficult tasks that faced BMW during its development.
Some things old, some things new
As an evolution of 1600 first introduced in 1965, 2002 was long in the tooth by the time its successor was unleashed upon Europe in mid-1975. (Production of some 2002 models, including U.S.-market versions, continued well into 1976.) Positioned below the 5 Series sedan in both size and price, the new E21 platform was given the logical 3 Series designation, and each individual model was named according to its engine size. This followed the convention that had been established with the E12 5 Series a few years earlier, and it would become standard practice across the entire BMW range by the end of the 1970s.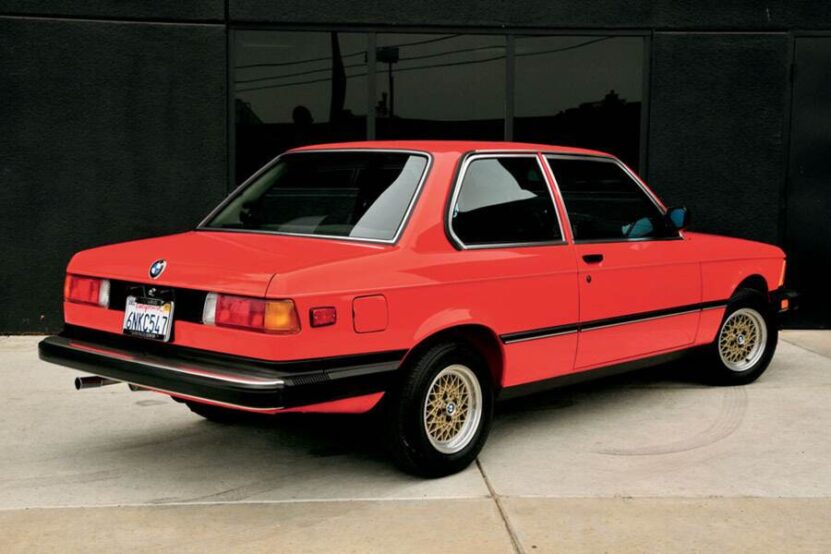 The 3 Series was styled under the direction of Paul Bracq, who wanted to establish a clear corporate identity throughout the BMW lineup. The E21 therefore shared much of its design language with the Bracq-styled 5 Series though its boxy greenhouse and slim A-pillars clearly referenced 2002, albeit in a much more modern and sophisticated way. It was a perfectly pleasant shape, though hardly radical or revolutionary. On the other hand, the interior was truly groundbreaking, as it not only set a new benchmark for ergonomics but introduced the driver-focused cockpit design that would become a BMW staple for the next 30 years.
Mechanically, the E21 largely followed the successful blueprint established by the '02, but each component received many detail enhancements. The proven M10 inline-four was called into duty once again, initially in three different displacements: 1,573cc (316), 1,766cc (318) and 1,990cc (320), all with single Solex carburetors.
These were soon supplemented by the Bosch fuel-injected 320i, which remained the top-performing E21 for several years. All four European-spec motors were not yet burdened with emission control devices, so power and torque remained close to earlier levels. However, the 3 Series tipped the scales at roughly 2,400 lbs., about 200 lbs. more than in 2002, and the additional weight had a correspondingly negative effect on performance.
BMW's solution was to supplement the M10 engine range for 1978 with a pair of six-cylinder M20 motors from the E12 5 Series. The confusingly-named 320/6 utilized a 1,990cc version with a Solex carburetor; this produced 122 hp and 118 lb-ft of torque, slightly less than the four-cylinder 320i that it replaced but with silky-smooth delivery that helped mask the power deficit.
However, it was the fuel-injected 2,315cc motor in the 323i that finally gave the newer car enough grunt to compete with its 2002tii predecessor at the drag strip: With 143 hp and 140 lb-ft of torque, the 323i could reach 60 mph in roughly nine seconds and achieve a top speed of nearly 120 mph, respectable numbers for its time.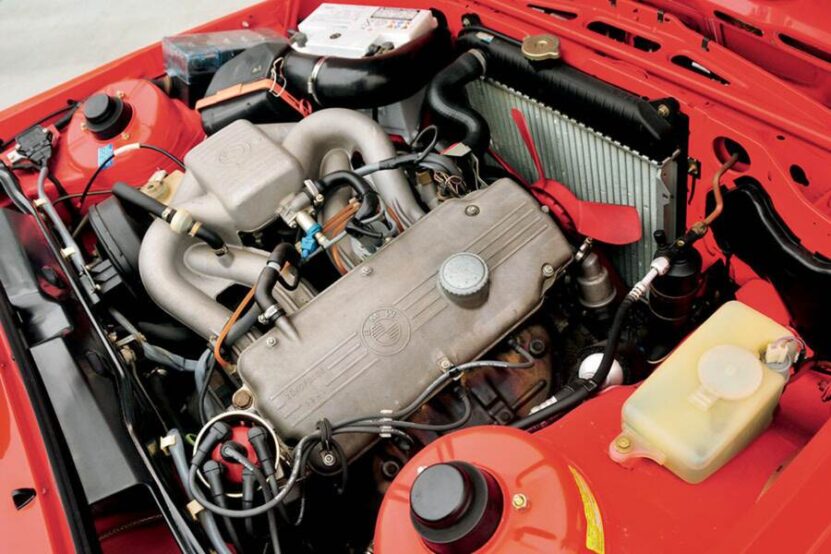 Cleaned up and dumbed down
On our side of the Atlantic, the newly formed BMW of North America limited the E21 range to one model: the four-cylinder 320i. Even with fairly sophisticated Bosch K-Jetronic fuel injection, the 1,990cc unit could only manage 110 hp in 49-state form and 105 hp with more restrictive California emissions compliance. This was largely due to a drop in compression, an unavoidable side effect of the thermal reactor emission controls and air injection system required to conform to EPA standards. The American-spec 320i was also fitted with side-impact door beams and massive 5-mph bumpers, which increased the overall length of the car by more than six inches and contributed to a curb weight that topped 2,600 lbs.
Needless to say, performance suffered accordingly. Contemporary road tests varied, but on average the 320i accelerated to 60 mph in around 11 seconds and clicked through the quarter-mile in about 18.5 seconds, which meant it was quite a bit slower than the 1972-'74 2002tii. This wasn't lost on the American press, which was quickly becoming acclimated to the arrival of slower and slower automobiles with each new model year.
Nonetheless, reviews of the E21 were otherwise quite favorable, particularly where ride and handling were concerned. BMW chose slightly softer spring rates for the American market, but that didn't prevent Road&Track from describing the handling as "typically BMW" with "neutral response until the car is pressed hard, then mild final oversteer associated with its semi-trailing arm independent rear suspension." R&T also portrayed the 320i as having "better-balanced springing and more suspension travel than its predecessor," and went on to discuss how well the car soaked up surface irregularities and resisted the pitching motion to which 2002s were prone.
R&T even loved the new rack-and-pinion steering system that some of the European press had deemed too slow and unresponsive. R&T declared it "as precise and as quick as you'd expect from a BMW, with the added advantage of reduced effort compared to the previous car."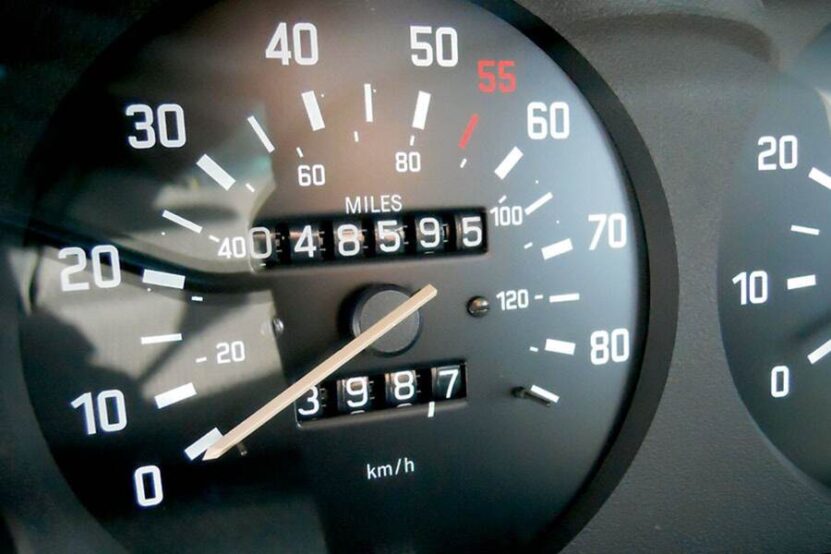 The magazine did mention that the E21's ultimate cornering speed was limited by its predilection for lifting the inside rear wheel and that aggressive drivers would be well served by specifying the optional limited-slip differential. The press was not alone in experiencing this characteristic, which was blamed for the car's tendency to suddenly oversteer and quickly became a known quirk of 1977 320i. BMW's chassis engineers responded by stiffening the front springs on all E21s for 1978, while U.S.-market cars also received a smaller front anti-roll bar and the total deletion of the rear anti-roll bar. The fix seemed to work, as Road&Track's re-test of the 320i in 1978 found it to be "a very balanced and forgiving car to drive."
A bit leaner, a bit meaner
After carrying over with minor tweaks for 1979, the 320i was massively updated under the skin for 1980. Despite bearing the same model name, the U.S-spec 320i was now powered by a smaller 1,766cc version of the M10 inline-four, as found in the European-market 318i. Maximum horsepower and torque ratings dropped slightly to 101 hp and 100 lb-ft of torque, but emissions and overall driveability were improved considerably via the use of a three-way catalytic converter and Lambda sensor in place of the troublesome thermal reactors. This setup also allowed the 320i to be sold in one version for all 50 states.
The introduction of a five-speed manual gearbox helped to offset the power loss a bit while improving fuel economy considerably (from an EPA-rated 19 mpg city/28 highway to 29/36). Any further negative impact on performance was mitigated by a massive diet regimen that benefited all E21s. By lightening a myriad of small items throughout the car, from the brake pistons to the window glass, BMW managed to reduce overall curb weight by a whopping 170 lbs. Thus, even with nine fewer ponies under the hood, 1980 320i was endowed with a better power-to-weight ratio than the earlier 2.0-liter version of 1977-'79.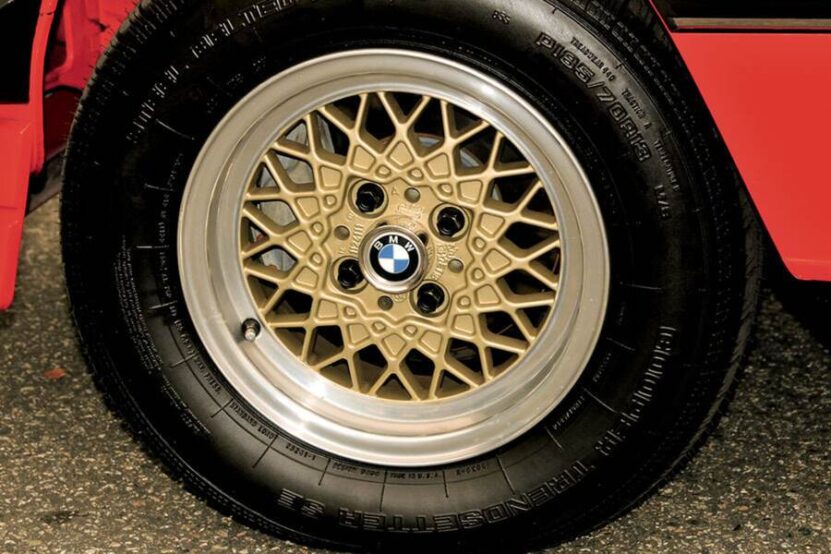 Cosmetically, however, the 1980 320i looked largely the same as before. The sole exterior change was the addition of more aerodynamic side mirrors that were now mounted to the A-pillars instead of the doors. Inside, a digital clock was added underneath the tachometer, freeing up space for revised HVAC controls in the center of the dashboard. As before, stand-alone options were limited to an automatic transmission (still with three speeds), limited slip differential, manual sunroof, alloy wheels, fog lights, metallic paint and various radios.
The introduction of 1980 320i also brought a new option package created exclusively for North America. Designed for the enthusiast buyer who would likely have sprung for the more powerful 323i had it been offered here, the "S" package grouped together the limited-slip differential, manual sunroof, cassette radio and fog lights, then added the three-spoke steering wheel and Recaro front seats previously offered as individual 320i options prior to 1980.
In addition, it introduced a number of desirable new features: a larger front anti-roll bar, a rear anti-roll bar, 13-inch cross-spoke alloy wheels, a prominent front air dam, a passenger-side mirror and a full-size tool kit mounted to the underside of the trunk lid. The "S" package could only be had with a manual transmission and in one of three exterior colors (Alpine White, Black or Polaris Silver metallic), and it was not offered in combination with factory air conditioning.
After such an extensive round of changes in 1980, BMW largely left the E21 3 Series alone until production ceased in late 1982. By the time the E30 arrived in 1983, 1.36 million E21s had been produced in total, making it even more popular than in 2002.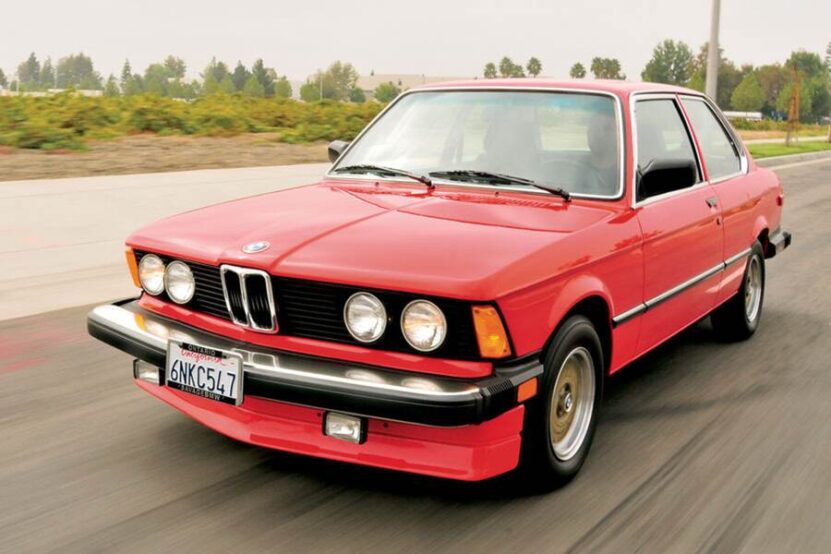 Time warp
If the press loved the E21 and customers loved the E21, surely the original 3 Series must be a better BMW than its lukewarm reputation would indicate. To find out, we looked for an E21 in excellent condition, which isn't as easy as it may sound. Collectors haven't shown much interest in these cars, so restored examples are few and far between. Low-mileage examples in original condition do surface from time to time, and this Henna Red "S" package example is about as pristine and unmolested as they come.
Sold new by Savage BMW back in 1982, it has covered less than 50,000 miles since (mostly in the hands of its original owner). It's totally stock except for a few common upgrades: a painted front air dam, gold-centered alloy wheels and dealer-installed air conditioning, all of which were performed by Savage BMW in 1982.
The E21 may not be one of BMW's most celebrated shapes, but unspoiled examples in the right paint color possess an undeniable retro charm. Though the slim bumpers of European-market examples tend to highlight the best aspects of Bracq's design, the subtle aggression of the "S"-package cars is a testament to the well-chosen styling upgrades specified by BMW of North America over three decades ago. We especially applaud the decision to exclude a rear spoiler, thus preserving the subtle and attractive curvature of the standard trunk lid.
Slide into the heavily bolstered Recaros and you're greeted with an interior that still sets an incredibly high ergonomic standard. Visibility is nearly unhindered through the slim pillars and upright greenhouse, while all the controls fall to hand in exactly the right places. The sport steering wheel may be thin by modern standards, but it feels great here. Just ahead are four round analog gauges that follow the same logical arrangement still found in current BMWs, while off to the right are simple knobs for the HVAC and a few other minor controls. It's a straightforward driving environment that takes about 30 seconds to master, and it represents a massive improvement over the 2002's cabin, which was dated even by 1970s standards.
The 1.8-liter motor spins to life instantly and soon settles into a smooth, consistent idle. Performance expectations are understandably low given the massive power gap between this car and any current BMW. Nonetheless, when I slide the Getrag transmission into first and let out the well-weighted clutch, the 320i accelerates with far more initial gusto than I'd anticipated. Torque is surprisingly ample up to about 4,000 rpm, at which point the motor gets a bit gruff and power drops off considerably.
It's no rocket, but making smart use of the five forward ratios allows me to hustle the 320i along just fine. And though nothing about the motor's character is particularly memorable, the gearbox possesses a tight, positive and delightful shift action that shames even the best BMW manuals of today.
So what about handling, the area of so much contention among BMW aficionados? Our brief drive in the 320i was confined to suburban roads, none of which were very twisty, so we can't draw any definitive conclusions. That said, this car is an absolute pleasure at 5/10ths. The unassisted steering is meaty and raw, yet never excessively heavy, and the front end responds fairly quickly to changes in input.
The suspension is definitely on the softer side but still feels acceptably taut and controlled, so you can pitch the car into corners fairly hard without fear of nasty repercussions. (As an "S" model, this car has limited slip, which helps.) With enough speed, we could see how that softness might translate into some unsettling movement from the chassis, but you'd really have to be pushing all 101 horses to their absolute limit to get there. Otherwise, the 320i feels like a slightly less tossable 2002, consistent with the sentiments of its original reviewers.
The 320i will never be as revered as 2002; its place in BMW's history and the circumstances surrounding its creation will simply never allow it. But that doesn't mean that the 320i shouldn't be appreciated in its own right. It's a wonderful little car in many aspects and one that embodies many of the attributes that BMW enthusiasts have traditionally held dear: smart styling, impeccable ergonomics, entertaining handling and an overall "fun to drive" quality that so few cars possess (particularly those engineered in the 1970s). With affordable 2002s becoming more and more scarce, unspoiled 320i survivors like this one represent a compelling alternative for those who wish to own a vintage BMW that can still be obtained at an affordable price.
Thanks to Savage BMW for providing the 320i used for this article.